Feb 22nd's Dinner was Cashew Chicken, i bought a WanChai Ferry Box Dinner from the grocery store, and i wanted to try it. i added Brocoli to the dish even though the recipe has no veggie in it, but i love veggies, so i altered it a bit.
First, i cut up the skinless, boneless chicken breast into one inch cubes, while having the brocoli cut up and washed. The chicken i seasoned it with salt and pepper, garlic powder and onion powder.


Then heat pan with olive oil and pan fry the chicken.


In another pan, added a bit oil, stirred in fresh garlic then added the brocoli and stir fry for a bit, added some water to finish cooking.




When the chicken and brocoli are both done, mixed them together, added some cashews. keep stirring while adding the sauce that came with the boxed dinner.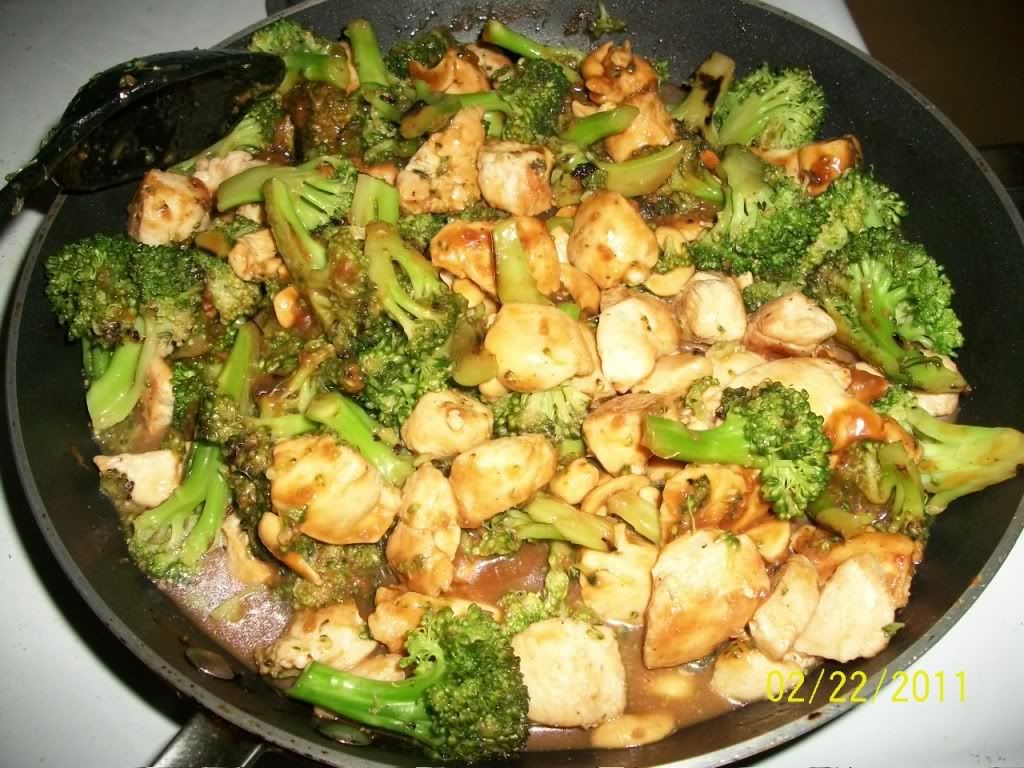 After everything is covered with the sauce, voila, there you have it, Cashew chicken with Brocoli on white rice
Variations: Pork, shrimp, beef..etc. bell peppers, mushrooms, carrots...etc
Notes: the sauce is a bit too sweet for me, so u dont have to add the whole package, save some for next time. instead you can add water, but of course it's gonna be a bit watery, add corn starch water to it so the sauce will thicken.
This dish is high in carbs and sodium and fat. not recommended for dieters. But there are things you can do to make it more healthy.
1. not use the whole package of sauce (hence, less sodium)
2. not using the corn starch (hence, less carb)
3. use less oil in cooking, if u can, you can just boil the ingredients instead of pan frying.