If you are reading this post, you, most likely, have a Pinterest account, so you know how addicting it is right?! I am starting a new series called Pinaholics Anonymous Meeting to share what I have pinned to my boards on Pinterest that I find interesting and inspiring.
I will feature pins in every Pinaholics Anonymous Meeting post, but since this is a sewing blog, I will feature sewing related pins. Pins that I feature may be tutorials, tips, tricks, or ideas (but I am partial to tutorials!)
So without further ado, let's begin our very first PA Meeting!
*Click on the pictures to go to the direct link of the articles*
1st item on our meeting agenda: My Pinterest Profile
Feel Free to follow me!
2nd item on our meeting agenda: How to Sew Bias Tape the Proper Way and the Cheating Way.
Dana over at
MADE
has this amazing tutorial on how to sew bias tape both the proper way and the cheating way. Her instructions are easy to follow, here photos are clear, great tutorial! I hate sewing on bias tape with a passion so this tutorial is a must-read and must-pin.
3rd item on our meeting agenda: How to Free Motion Quilt on a Regular Machine
Elisabeth Hartman over at
Oh, Fransson
has a GREAT tutorial on how to quilt with a regular machine! Seriously, this is a Must-Read, Must-Pin again! Not everyone can afford to buy a machine just for quilting especially when I don't quilt regularly, only every now and then quilting a pot holder or a small baby quilt. So take a look at her article, it's amazing!
4th item on our meeting agenda: How to Hem Jeans but Keep the Original Hem!
This
RefashionMama
is so talented in refashioning old clothing into something awesome! One of her projects was to hem Jeans but keeping the original hem. If you are a petite woman like me, you always have to hem your pants, jeans...etc, but I can never do the hem exactly like the original no matter how hard I try.
So please do check out her tutorial on how to keep the original hem, so easy!
5th item on our meeting agenda: Easy Way to Quilt Parallel Lines using Painters Tape
Catherine over at
Blue Square Quilting
has this great idea on how to quilt perfect parallel straight lines the easy way!
6th item on our meeting agenda: The Box Corner Technique
If you are a newbie in sewing or have not ventured into making purses yet, you will want to learn this box corner technique written by Liz Johnson over at
Sew 4 Home
.
7th item on our meeting agenda: Know Your Sewing Machine Feet
I don't know about you, but I am a newbie to sewing and my sewing machine only came with a couple of different feet. But as my sewing experience progressed, I acquired a few more feet for my machines. I, as a newbie, do not really know what all these feet do and when to use them. So I have found a Know-How article to explain what the feet are and when to use them.
Raechel
has written an article (a cute one too) on sewing machine feet that I find very helpful and easy to understand.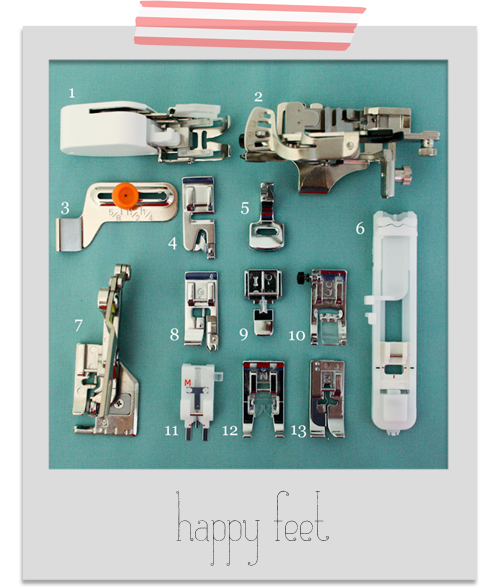 8th item on our meeting agenda: Follow my blog for more PA meetings! :)
*Do pin these amazing tutorials from their original sites*